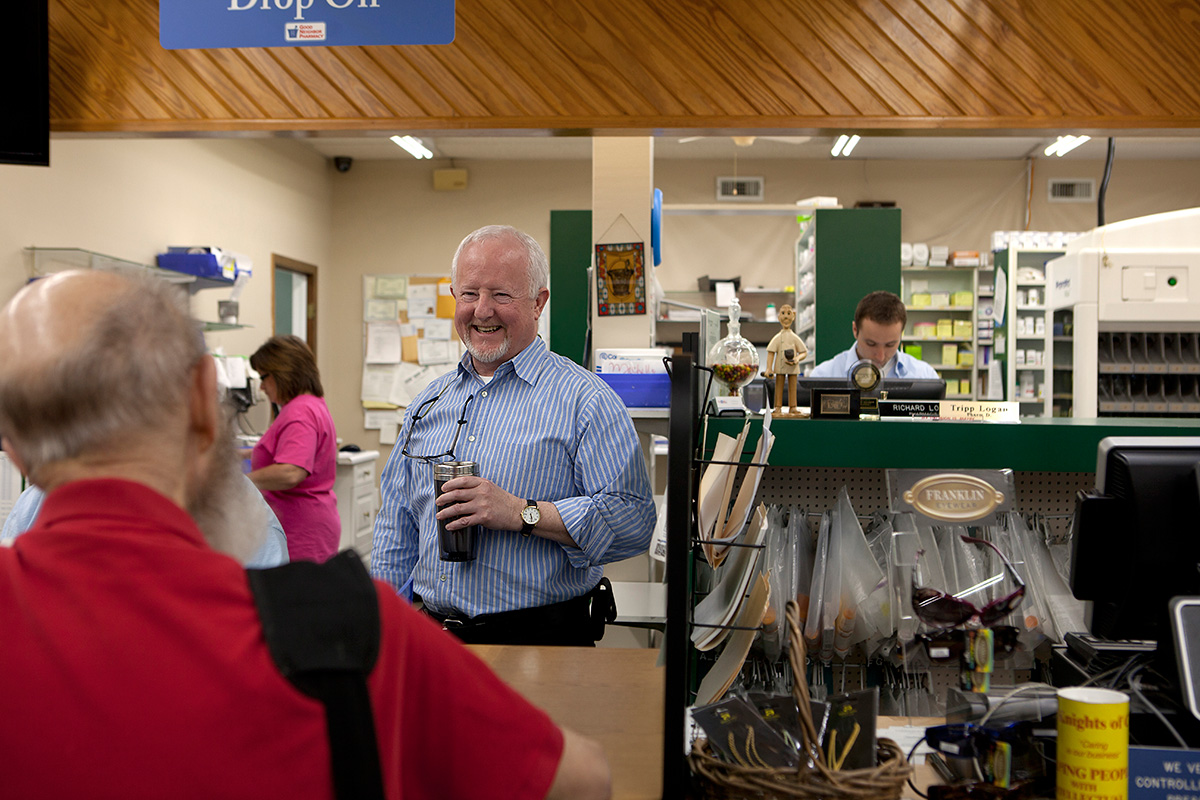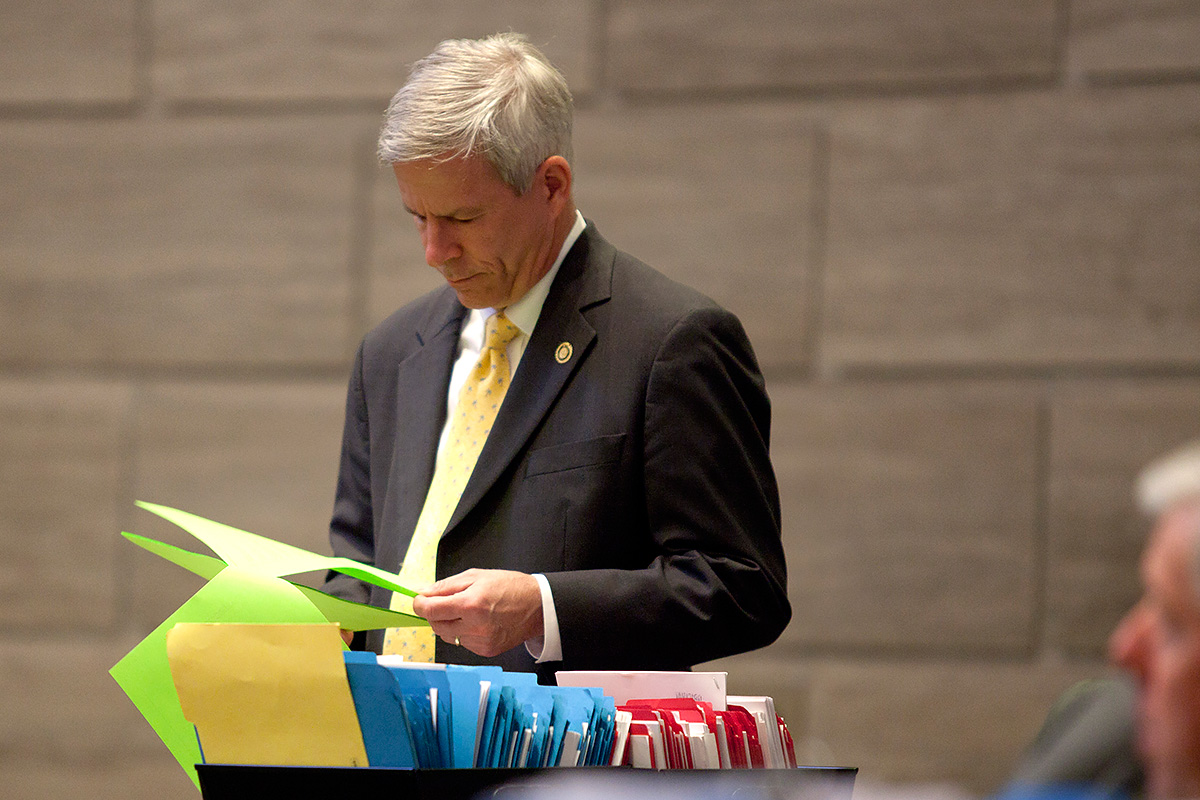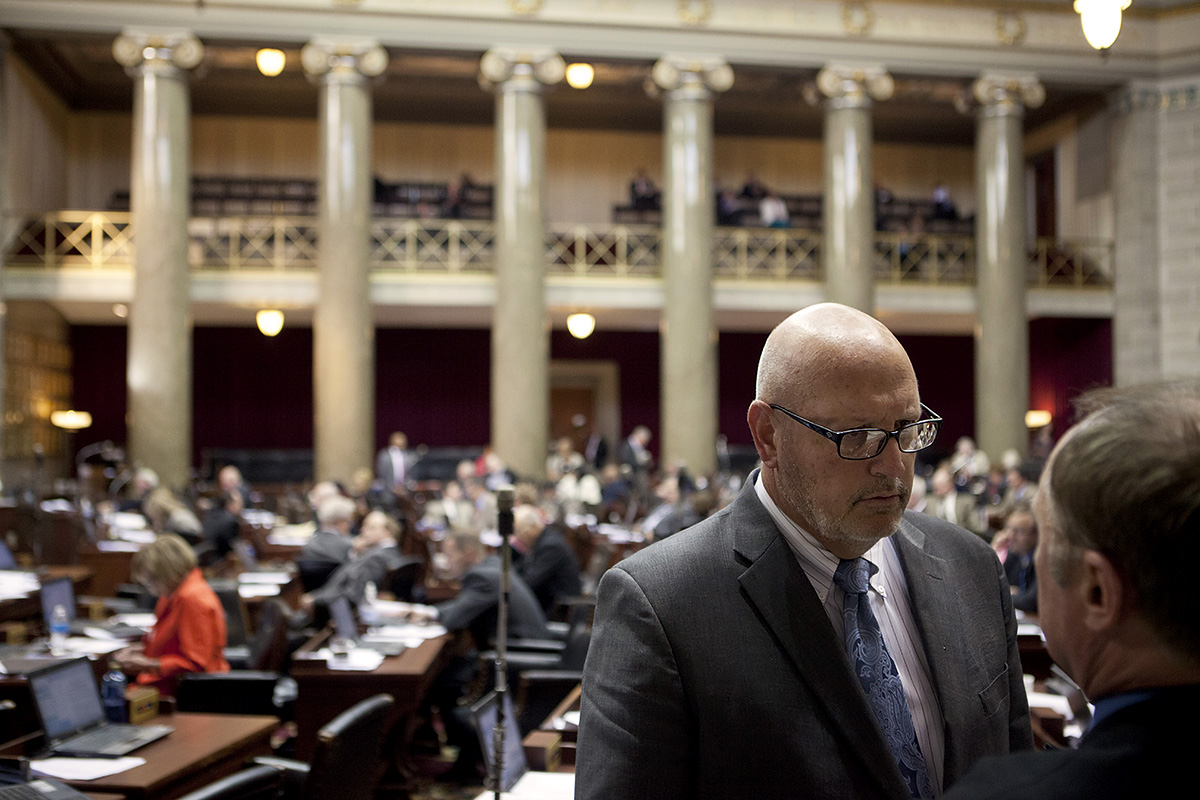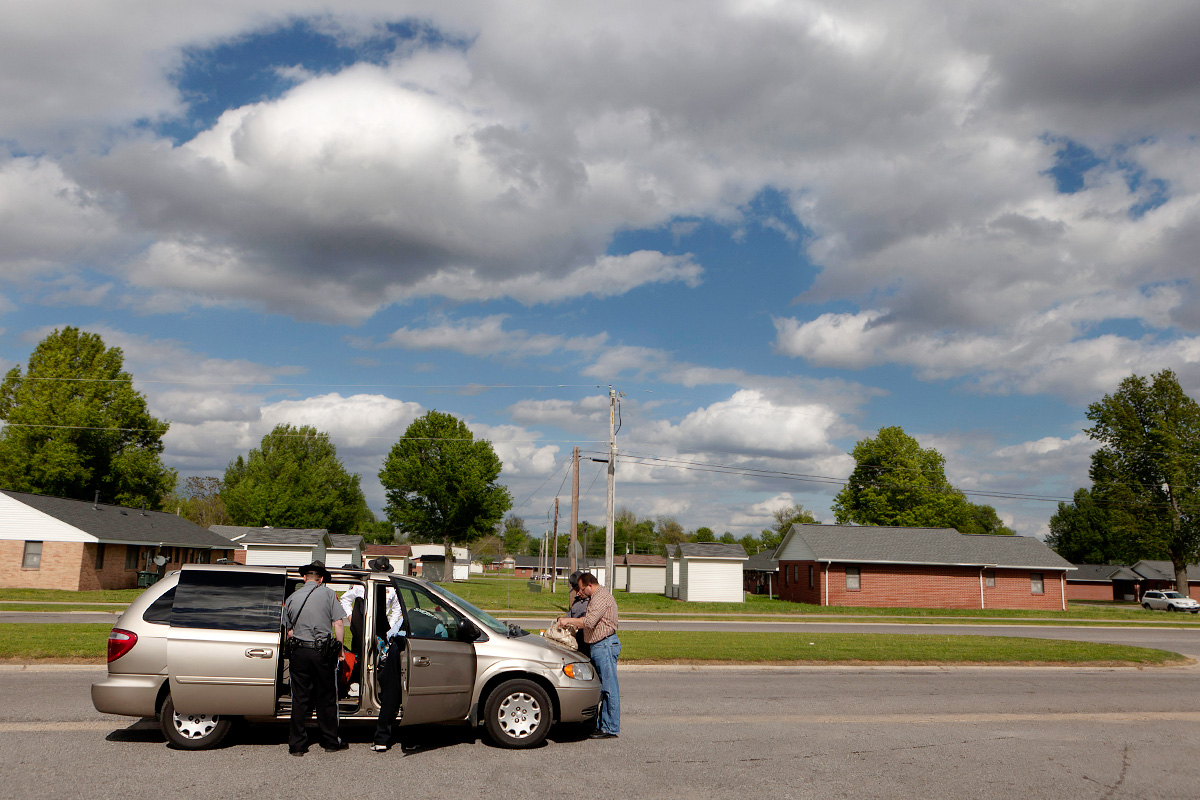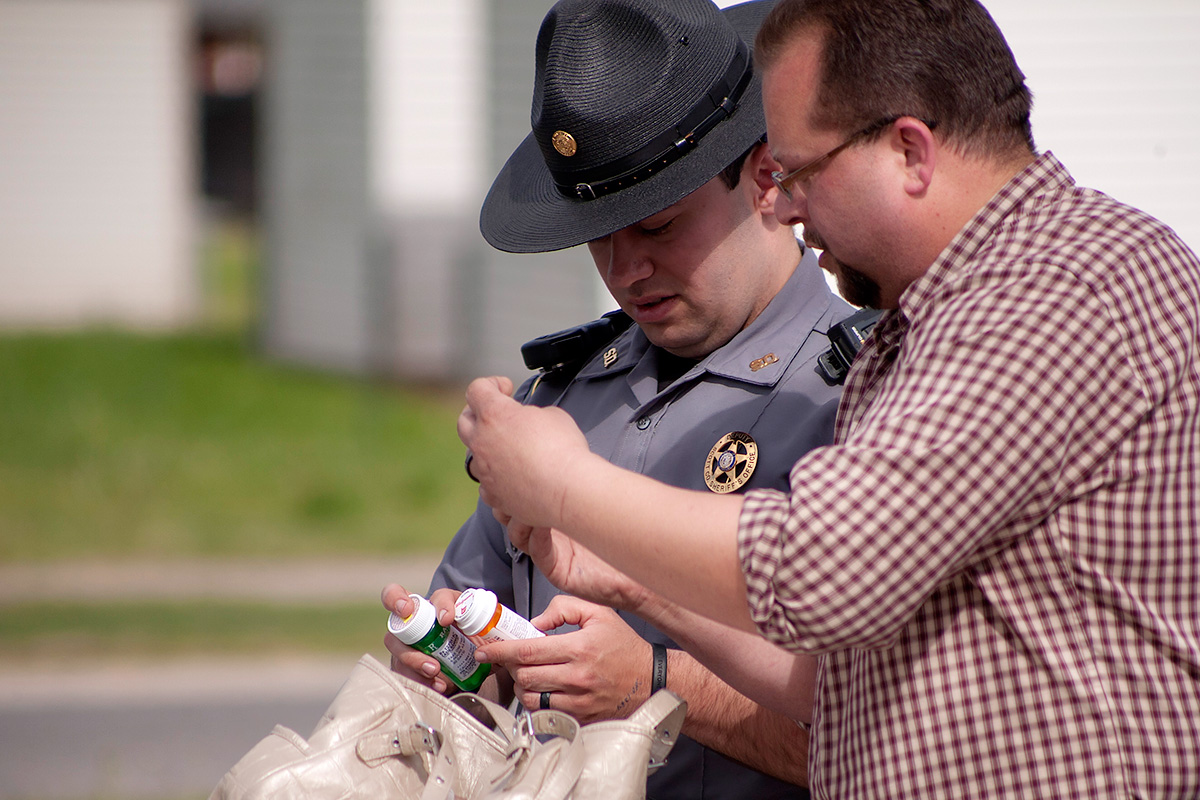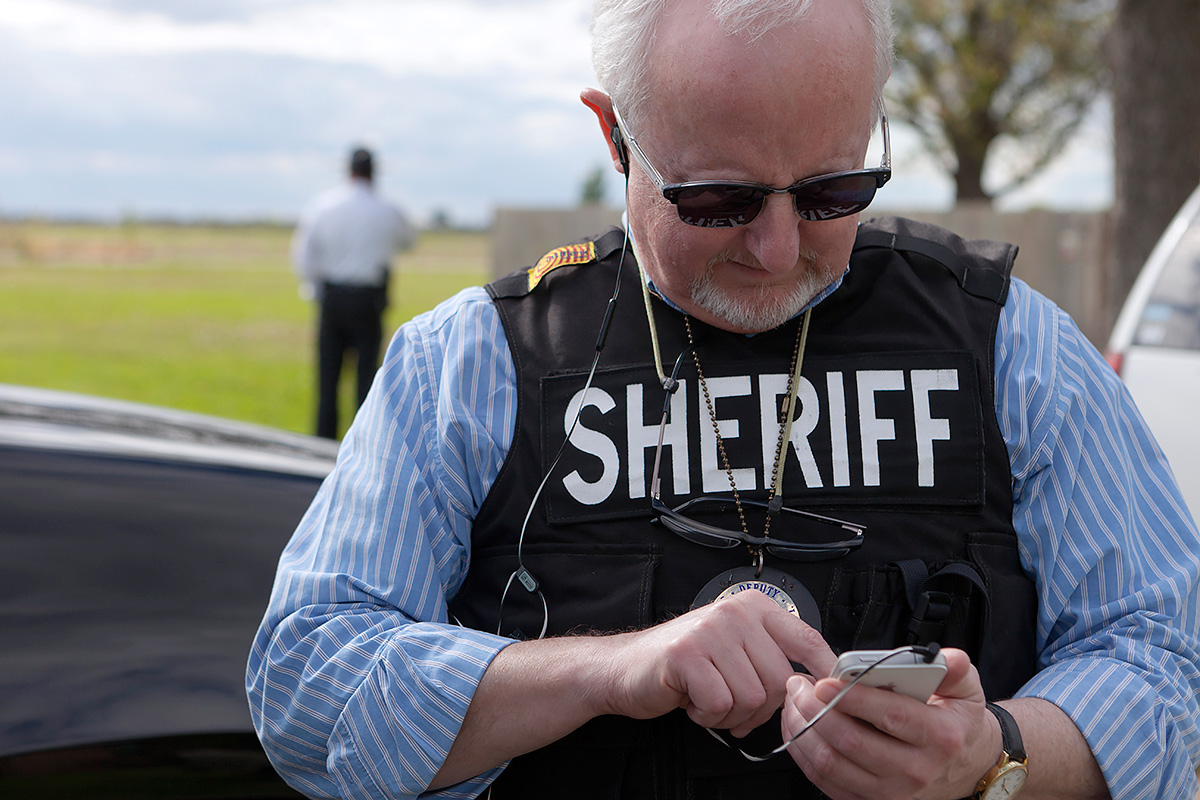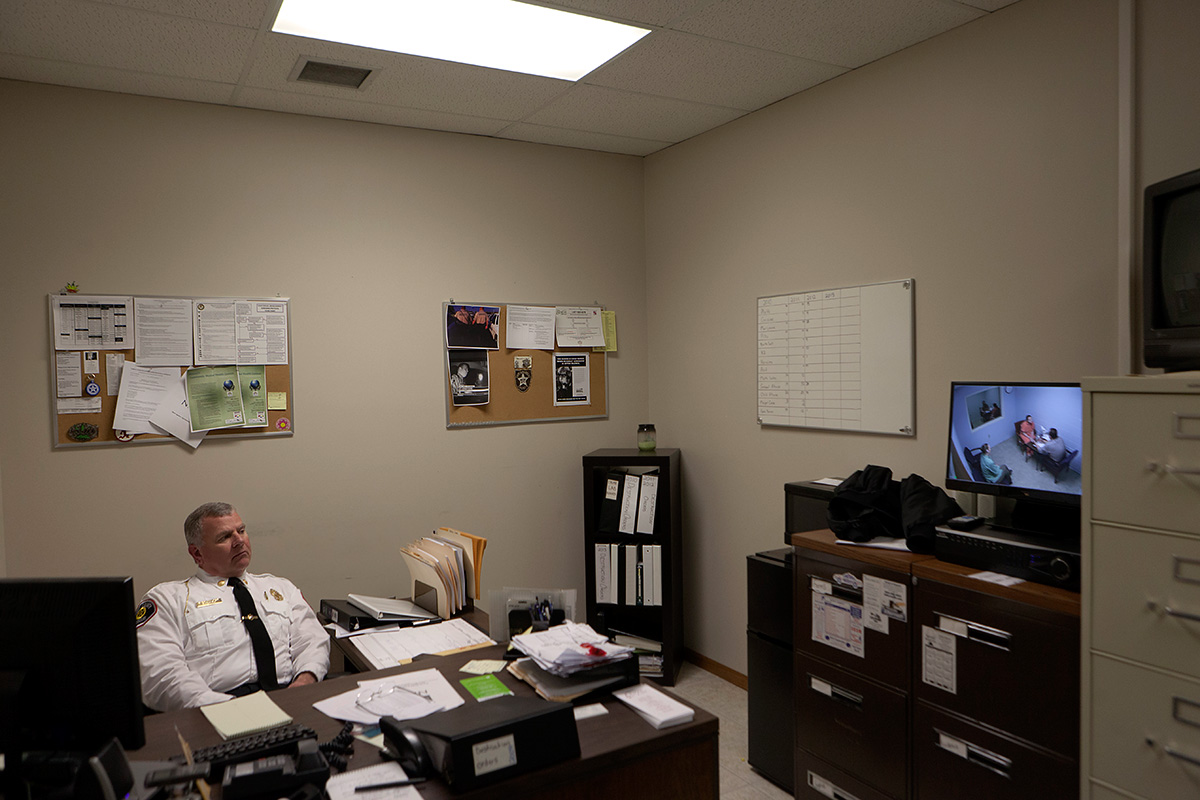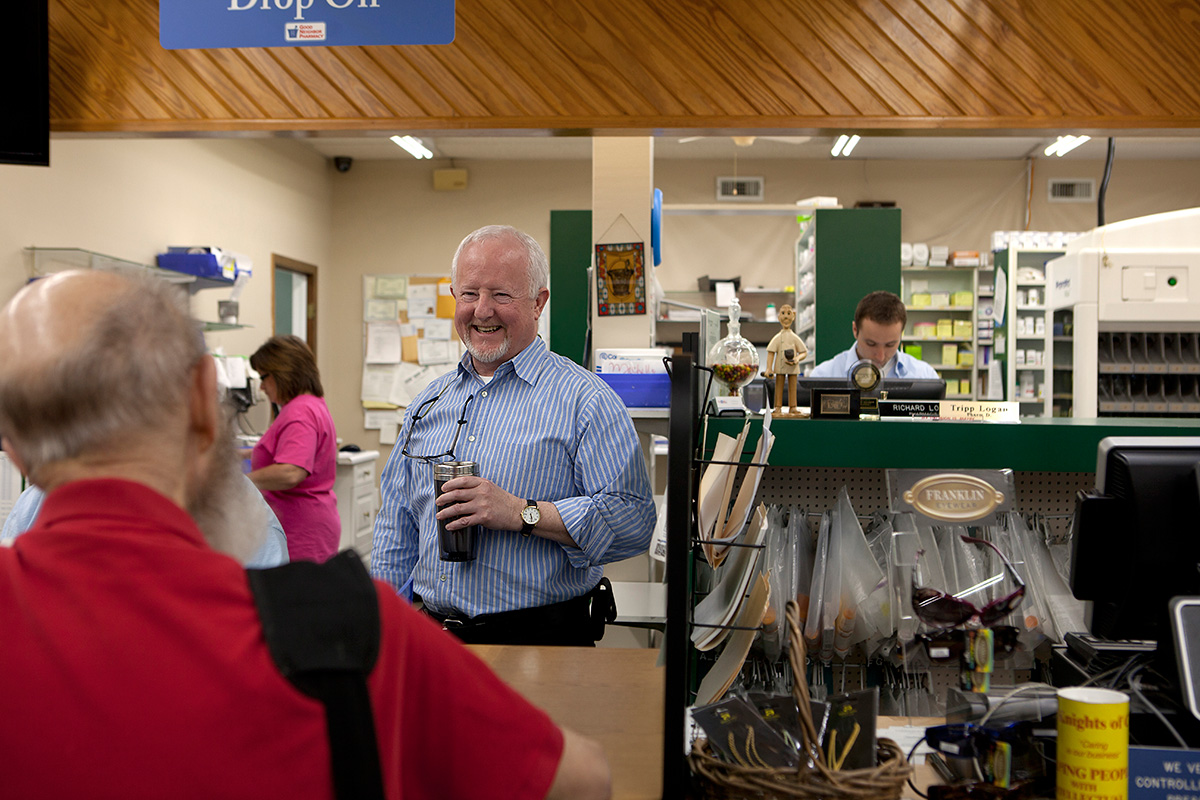 Sikeston & Jefferson City, MO - March 2014 - In 2014 Missouri remained the only state without a "Prescription Drug Monitoring Program" also known as a "PDMP". The program aims to eliminate over prescribing by doctors as well as "Doctor Shopping" by patients. Excess medication often find its way to friends, family or resold to others.Richard Logan, owner of L&S Pharmacy, listens to a longtime customer at his pharmacy in Charleston, MO in Southeast Missouri.Logan is not only a pharmacist. He has a background in police work. He trains local pharmacy workers on how to identify suspicious prescriptions and often helps investigate them.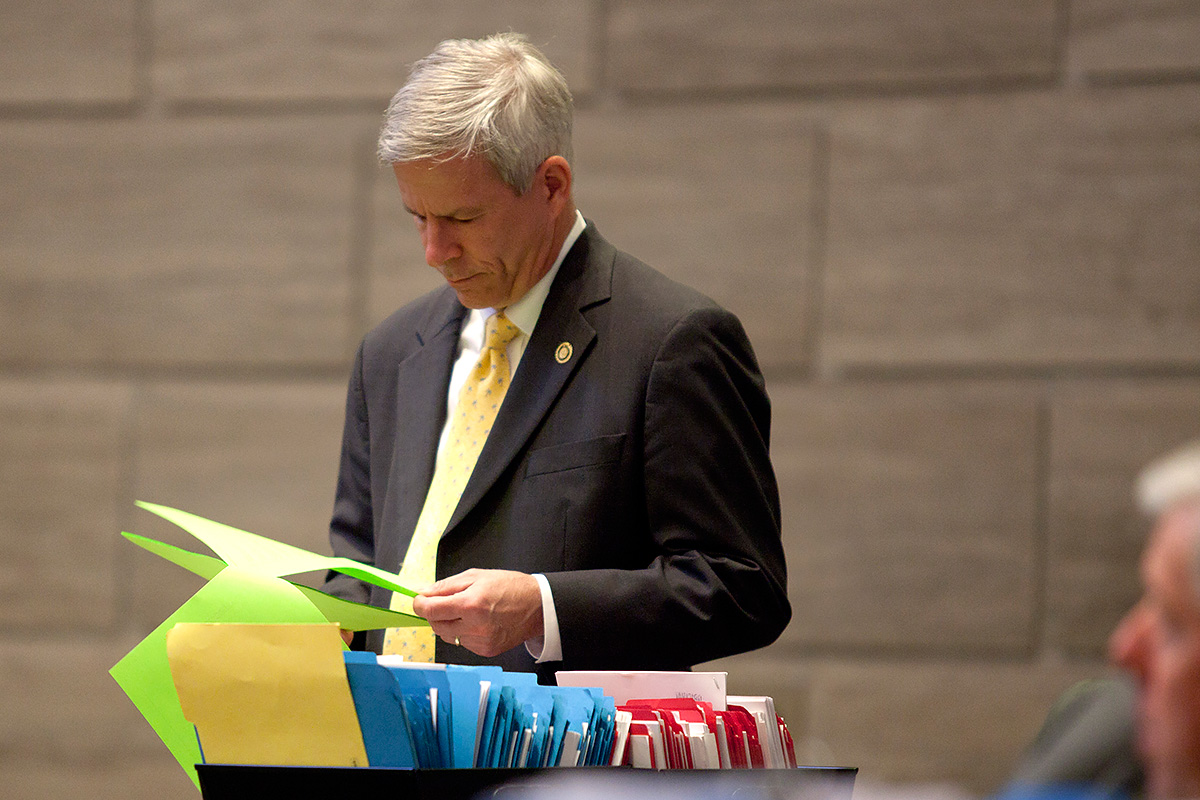 Missouri Sen. R-Dr. Robert Schaaf works on the floor of the Senate at the Missouri State Capitol in Jefferson City, MO. Dr. Schaaf leads the opposition against setting up a PDMP for Missouri on privacy grounds.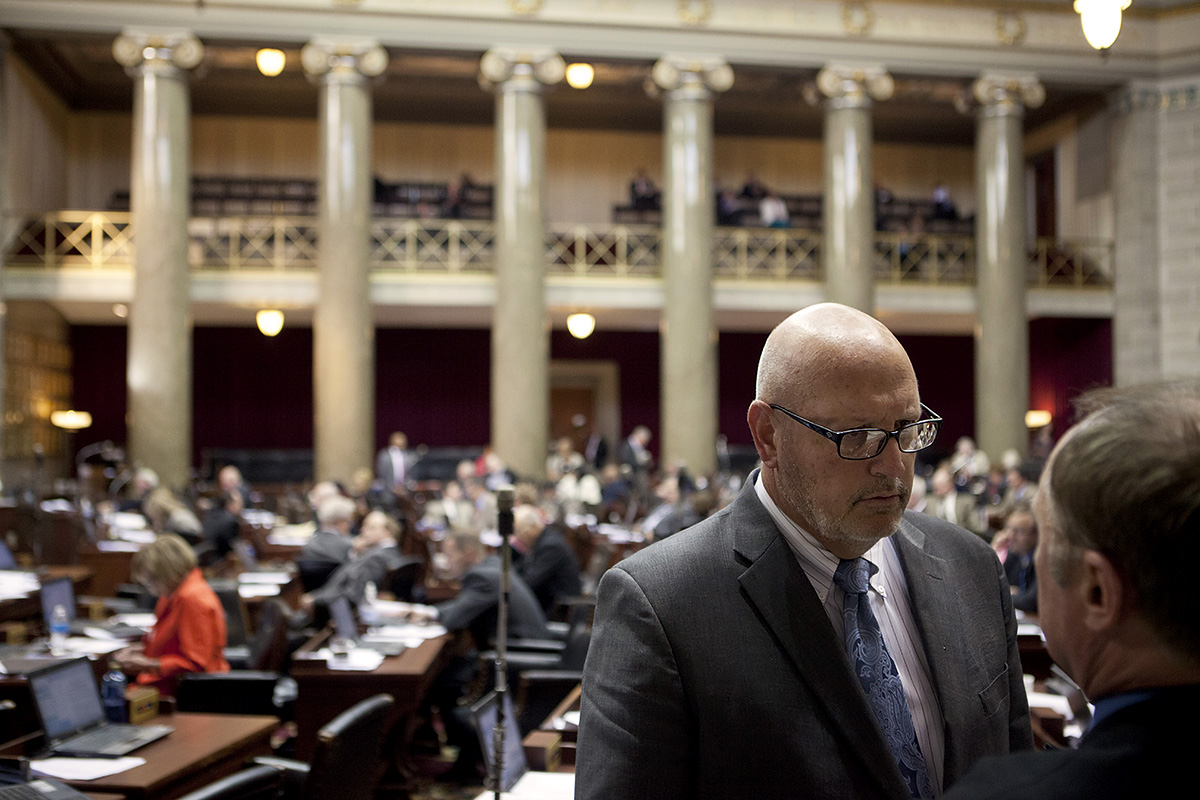 Missouri Rep. R-Kevin Engler works in the House chamber at the Missouri State Capitol in Jefferson City, MO. Engler sponsored a Missouri bill to set up a state Prescription Drug Monitoring Program.
11:06 AM - Richard Logan puts his hand to his head as he goes from pharmacist to detective. He listens to a pharmacy worker talk about a possible case of "Doctor Shopping". He makes calls to the county sheriff and begins collecting evidence.
2:54 PM - Richard Logan looks (left) through documents at a local doctor's office as Scott County Detective Branden Caid talks with the Sheriff. The two know each other well and have worked together on many similar cases. The evidence looks like it will lead to an arrest.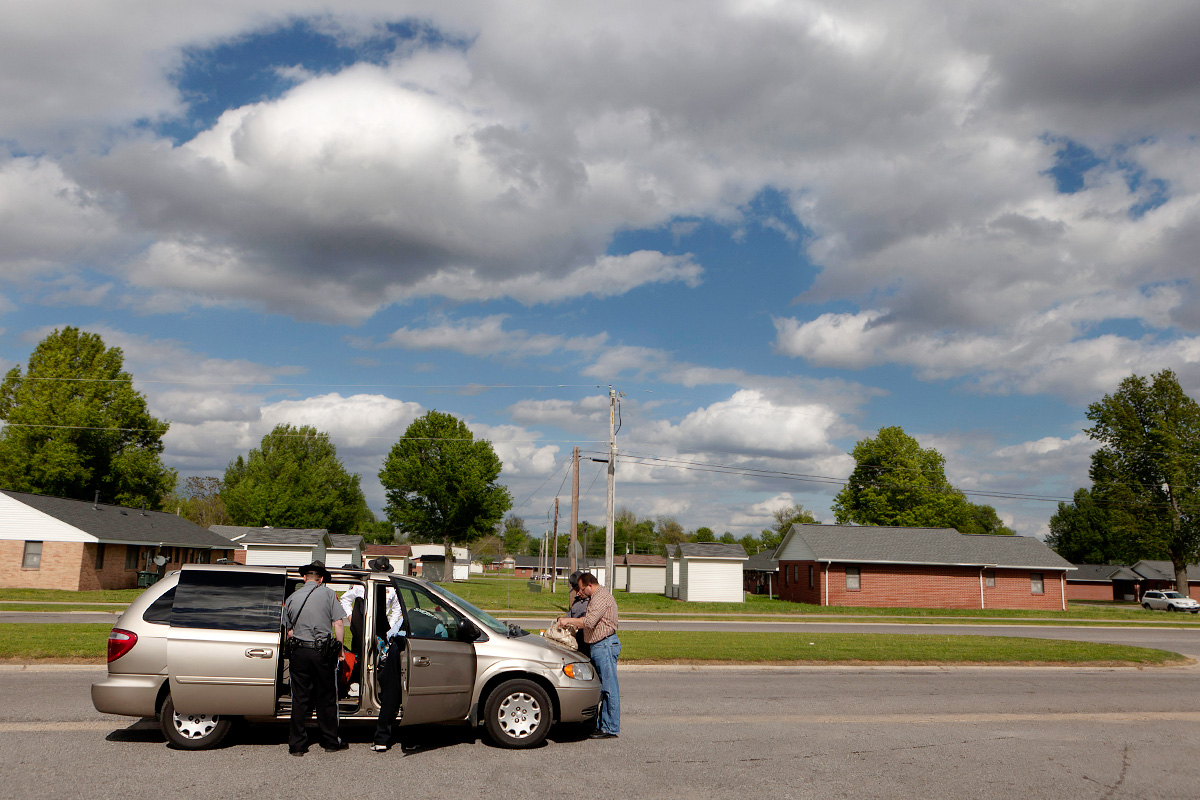 4:08 PM - After hours of collecting evidence and discussions about the suspect, Scott County Sheriff Deputies make the traffic stop. The suspect was driving her children home after school. The Sherrif and a deputy talk with the children as Detective Caid and another deputy search the suspect's purse for evidence.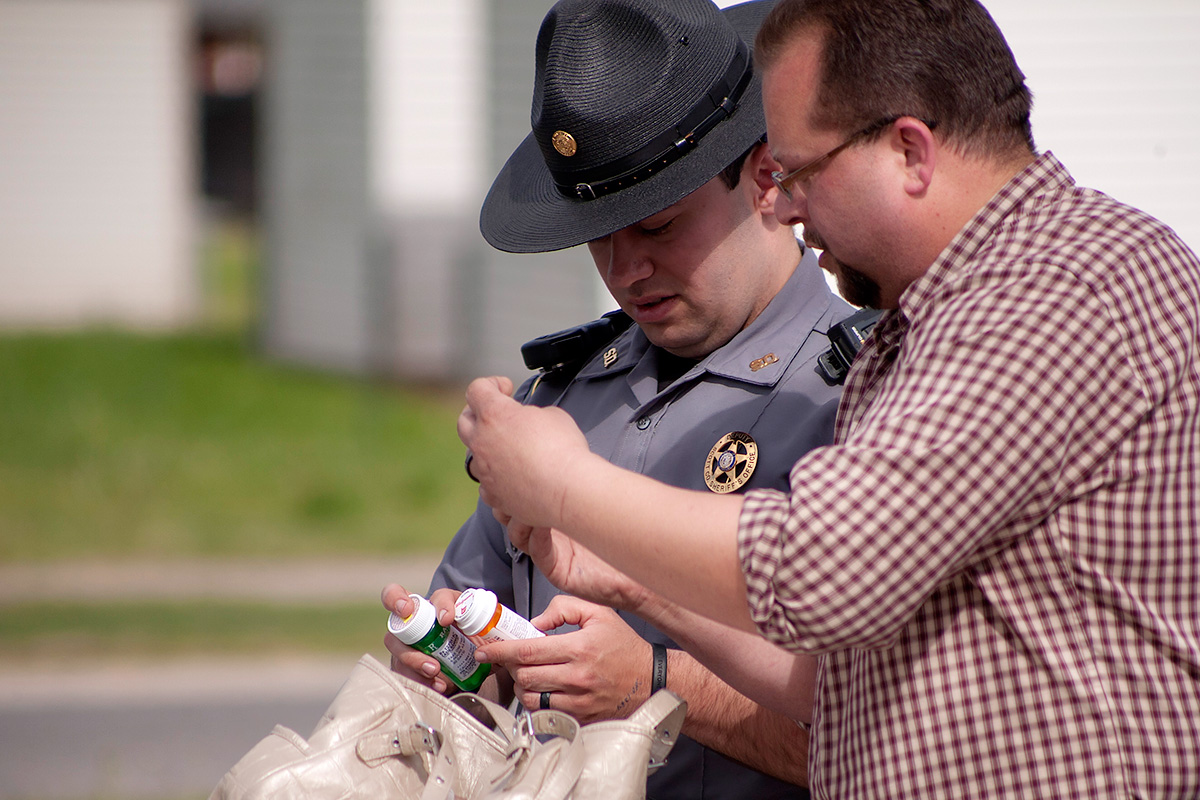 4:11 PM - Detective Branden Caid and a deputy find several bottles of prescription pain medication is the suspect's purse. Based on the evidence collected here and through out the day the suspect is arrested and taken into custody.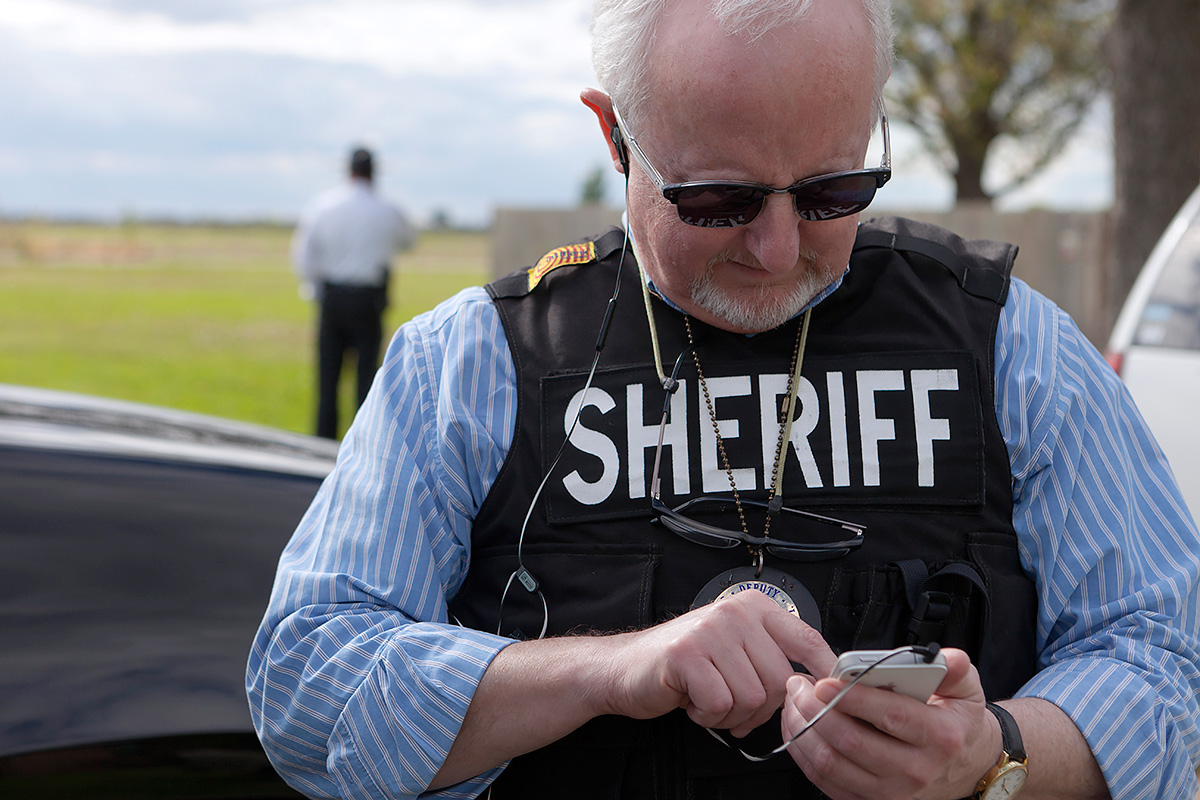 4:48 PM - As deputies search the suspect's house, Richard Logan texts his wife. She replies, "Are you back to being a pharmacist or are you still a cop?" He replies, "COP". She replies, "Coming home tonight?"
6:54 PM - Detective Branden Caid (left) and Scott County Sheriff Rick Walter look through evidence gathered before interrogating the suspect at the Scott County Sheriff's office.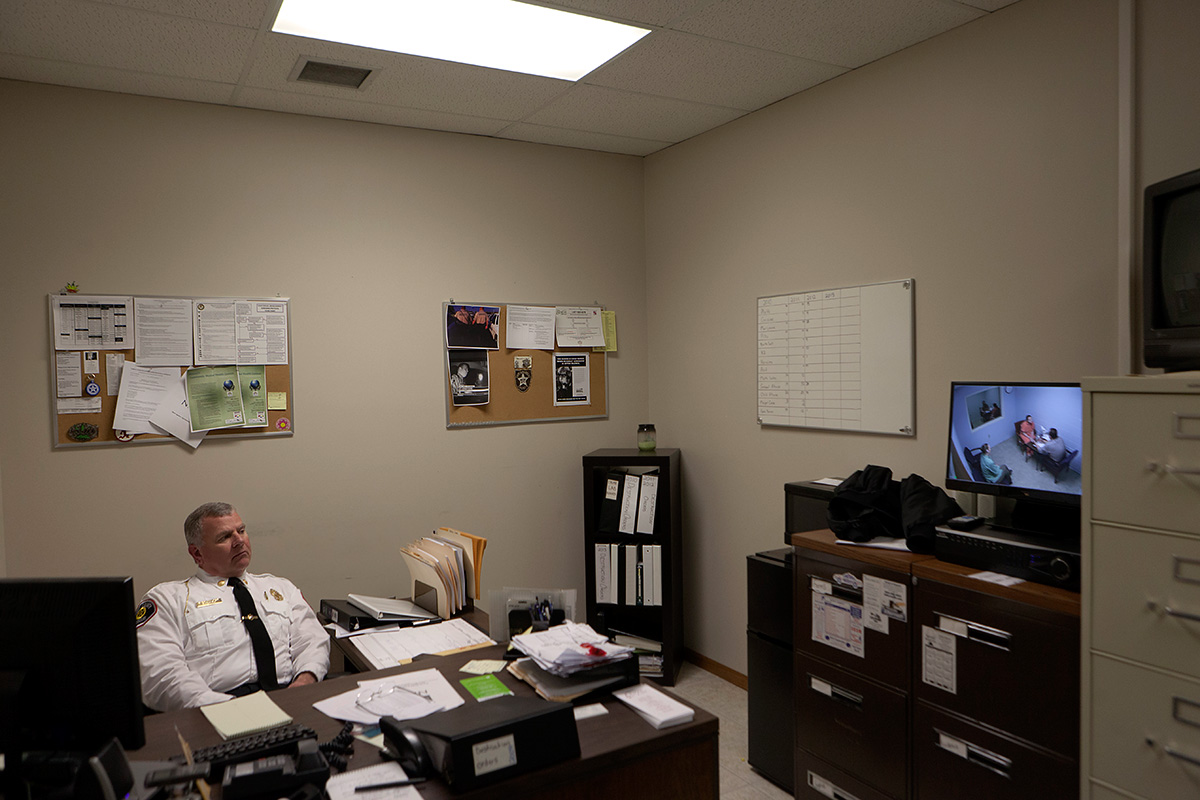 7:21 PM - Scott County Sheriff Rick Walter watches as the suspect is interrogated via a closed circuit video feed from a detective's desks. Sheriff Walter said 90% of his department's resources were used during the investigation, arrest and interrogation that day.Read Alan Schwarz's story in The New York Times"Missouri Alone in Resisting Prescription Drug Database"